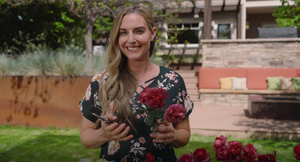 B-hyve:
There's a Better Way.
Keep your green spaces | stay inside drought restrictions
You CAN have it all
You may have heard that you need to decide between having green outdoor spaces and doing your part to conserve water during this devastating drought. The truth is, having a lawn or garden has benefits for your health and wellbeing1 and reduces the temperatures around your home.2
It's possible to maintain your green spaces without wasting water and while staying inside of regulations.
Being water wise doesn't mean going scorched-earth.
Replacing your entire green space with gravel and dirt is an extreme measure that can have lasting impacts. Turf is excellent for preventing soil erosion, meaning it helps prevent runoff and potential flooding around your home.3 Grass has also been shown to have the potential to help mitigate climate change effects by trapping greenhouse gases.4
While replacing grass with rocks and gravel can seem like an easy, environmentally-friendly way to reduce your water usage, a thoughtfully planned lawn and garden are better for the environment and can be maintained with minimal watering.
How to get the best of both worlds:
Replace unused lawn with low-water plants.
We've established that lawns certainly have a place in your yard, giving you recreational space and even providing environmental benefits compared to harsh rock landscaping. However, if you're only using a small portion of your lawn, replace the parts that aren't serving a purpose with trees, shrubs, and flowers that use less water than turf. Planting trees and other shade-providing plants can help keep the surface of your grassy areas cool, reducing the water needed and making the spaces more comfortable to spend time in.
Choose grass varieties that are drought tolerant.
There are more turf grass varieties available than ever. Do some research on which variety provides the best benefits for you. You can also increase the drought tolerance of your chosen grass by cutting it to the ideal length for that variety and ensuring your soil is healthy.
Install drip irrigation where possible.
Drip irrigation is one of the most water-efficient methods of keeping your plants hydrated. Drip systems deliver the water directly to the base of each plant, nearly eliminating evaporation between the pipe and the soil. It's an excellent option for vegetable gardens, shrubs, flowers, and even trees.
Use a smart watering device
B-hyve uses intelligent, real-time weather data along with your own lawn and garden's unique attributes to determine the exact amount of water your plants need and the best time to water them. From the slope of your lawn to the type of plants in your garden, B-hyve takes everything into account when calculating a watering schedule. This means you get great results while conserving water, too.
Control Anywhere
B-hyve® is Wi-Fi enabled, so you can control your watering system from anywhere in the world on your phone, tablet, or computer.
Drought Technology
The B-hyve® app informs you of drought levels in your area and allows you to adjust to your local restrictions. EPA WaterSense Certified.
Hyper-Local Precision
B-hyve® sprinkler timers control watering based on your property attributes and current, hyper-local weather data.
Detailed Scheduling
Use smart watering, manual, or a combination of both. The freedom and control to water however works for you.
Real-Time Updates
B-hyve® notifies you when watering completes, if a weather delay has been initiated, or if the controller disconnects.
Smart Home Ready
Control your B-hyve® smart sprinkler controller with Amazon Alexa® or the Google Assistant® to easily water.
The full line of
B-hyve Products
Check out all that B-hyve has to offer and take control of your home's water use.
Shop B-hyve
Sources
1. "Spending time in the garden is positively associated with health and wellbeing: Results from a National Survey in England." Landscape and Urban Planning. 2020.
2. "Maryland Turfgrass Survey - 1996: An Economic Value Study" Institute of Applied Agriculture. University of Maryland. 1996.
3. "The Role of Turfgrasses in Environmental Protection and Their Benefits to Humans" Journal of Environmental Quality. 1994.
4."Turfgrass and Climate Change" Agronomy Journal. 2017.